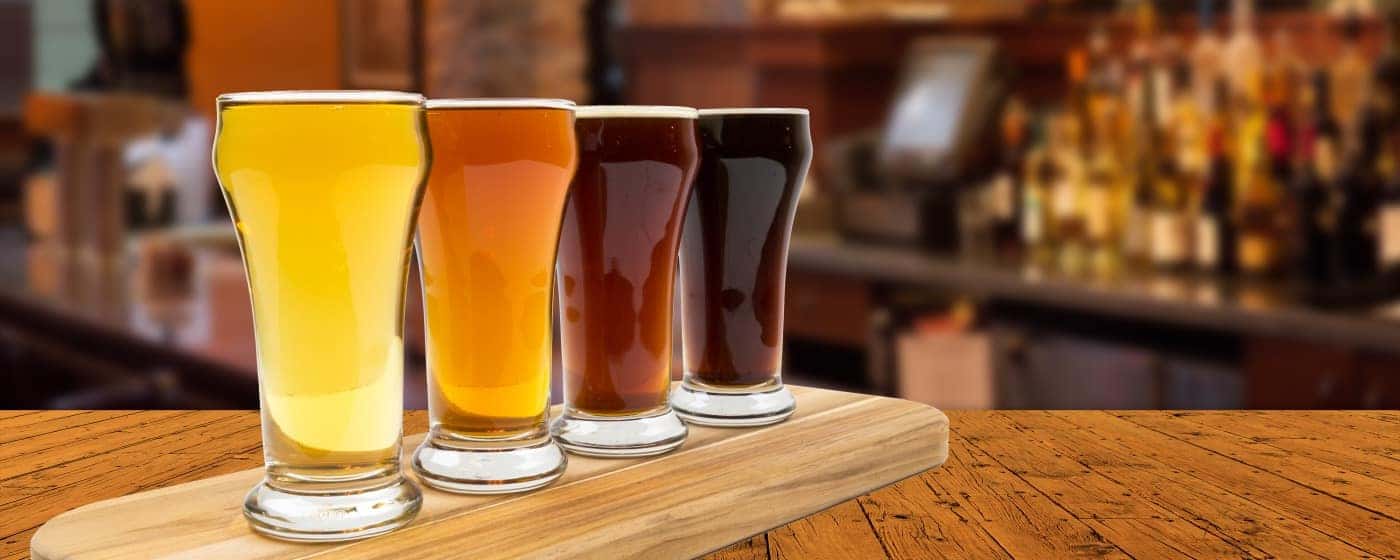 Ready to try out some of the best breweries in Montana? Our team has compiled a list of Montana breweries from across the state, so get ready to find your next new favorite spot!
Outlaw Brewing
Specializing in small batches, Outlaw Brewing boasts "beer so good it's criminal" and they pair their roguish branding with a rustic environment that encourages visitors to mingle with friends and strangers alike. Located in Bozeman, they offer weekly specials and up to 11 beers on tap. The unique atmosphere and fine fare make Outlaw Brewing one of the best breweries in Montana on all fronts!
Bozeman Brewing Company
Also in Bozeman, Bozeman Brewing Company was one of the first craft breweries in the area, and in addition to their lineup of lagers and ales, they go above and beyond to support local nonprofits and ongoing sustainability. Sour beers are also the star here, so be sure to sample in their tasting room.
406 Brewing Company
406 Brewing Company celebrates community by using local hops to craft their beers and furnishings from the historic Lehrking's Bozeman Brewery, which was closed during prohibition. The laid-back atmosphere invites beer lovers to enjoy their creative menu of American and British-inspired brews.
2 Basset Brewery
Inspired by a pair of fun-loving basset hounds, 2 Basset Brewery raises a glass to Montana's splendor using local barn wood in their decor and creating flavors the community loves. Many of the beers utilize playful puppy names to make you smile as you partake. 2 Basset is definitely a top choice among Montana breweries for canine lovers!
The Mighty Mo Brewing Company
The Mighty Mo Brewing Company got its name from the Missouri River, which runs through its hometown of Great Falls. In addition to their selection of IPAs and ales, they serve up tasty pub food favorites and schedule live music throughout the year.
Lone Peak Brewery
For a smooth draft is a beautiful setting, visit Lone Peak Brewery in Big Sky. This Montana brewery continues to grow, expanding its selection of on-tap beers and menu items over the years. Located near a ski resort, it's a great destination spot.
Beaverhead Brewing Company
Based on a local brewery from the late 1800s, today's Beaverhead Brewing Company prides itself on offering a robust selection of beers and handcrafted sodas, making it a great spot for the entire family. Sip your favorite pilsner, porter, or IPA when you visit this spot in Dillion.
Big Sky Brewing Company
Big Sky Brewing Company is best known for their Moose Drool brown ale, a fan favorite at University of Montana. Located in Missoula, this location is regularly included in any list of Montana breweries thanks to their impressive selection of canned beers, spiked seltzers, and sparkling waters.
Flathead Lake Brewing Company
Part brewery, part pub house, the Flathead Lake Brewing Company is expansive in size and selection, offering up to 16 beers on tap. This spot also boasts a relaxing outdoor seating area facing Flathead Lake for casual outdoor hangs.
Kalispell Brewing Company
No list of Montana breweries would be complete without Kalispell Brewing Company. They craft "beer with intention" using old-school techniques to brew innovative varieties. Located in downtown Kalispell, this Montana brewery offers seasonal stouts, ales, and IPAs to tempt your palate all year round.
Explore Montana in a New Hyundai from Underriner Hyundai!
When you're ready to try out this list of Montana breweries for yourself, make sure your Hyundai is ready to go with top-notch service from Underriner Hyundai! We want to make sure all our Laurel and Big Timber customers are driving safely and responsibly, so we make it easy to get the maintenance you need with affordable service specials. Schedule service with us near Livingston today!
More from Underriner Hyundai
If you want to spend more time on the Laurel roads and less time at the fuel pump, the 2021 Hyundai Sonata MPG is bound to impress. The base Sonata offers fuel economy figures of 28 city mpg/38 mpg highway*, and drivers can choose from three different engine options to get the precise performance that…

Whether you're searching for the perfect family-friendly SUV, or a sophisticated, adventure-ready vehicle, the new 2022 Hyundai Santa Fe is an excellent option. Not only does the Santa Fe provide exciting performance capabilities, but this SUV also features a luxurious interior filled with plenty of cargo room and upscale amenities. Read on to learn…

If you're looking for a new vehicle that is both fuel efficient and stylish, the new Hyundai Kona is a great choice! You'll look great cruising around Billings, as the Kona is sleek and has all the latest features. Yet, perhaps the most impressive feature of this vehicle is the Hyundai Kona MPG. The…