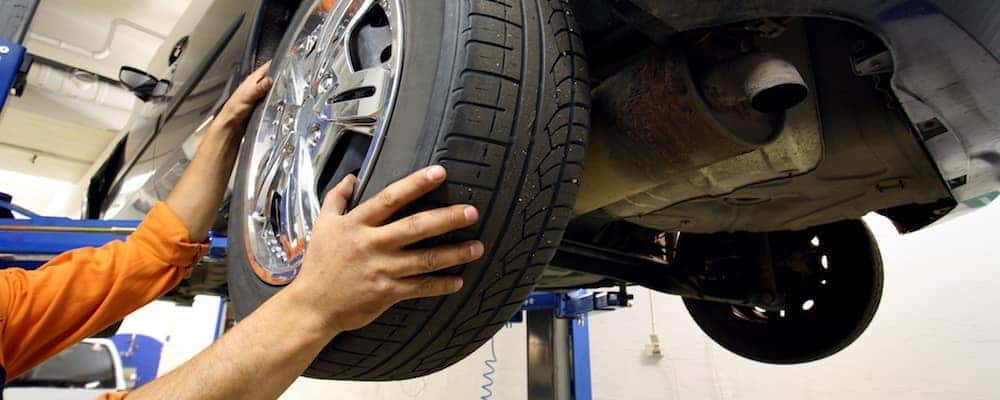 How Many Miles Do Tires Last?
If you've recently replaced the tires on your new or used Hyundai or you're thinking it may be time for a replacement soon, you've probably wanted to know how many miles do tires last. OEM (Original Equipment Manufacturer) tires and high-quality replacement tires should last approximately 50,000 miles. Laurel drivers can learn more by contacting our Billings service center or reading on.
What Factors Affect Tires' Life Expectancy?
Before asking how many miles should tires last, you really need to think about how and where you drive, as well as what type of tires you actually use. Here are just a few things that affect tire life expectancy:
Tire Type: High-performance tires boast added grip, but they generally wear faster than all-season tires, which offer less rolling resistance.
Treadwear Rating: Check the treadwear rating of your tires to find their estimated life expectancy.
Drivetrain: The main power for forward motion differs between front-wheel drive, rear-wheel drive, and all-wheel drive vehicles.
Road Conditions: Frequent driving on dirt or gravel roads impacts the life of your tires. Snow, salt, rain, and ice can also place them under more stress, as can off-roading.
Terrain: Live in an area with lots of inclines? Traveling up and down will put more friction on your tires than flat surfaces due to all of the stopping and starting.
Driving Style: If you have a lead foot on the brakes or gas, your tires are going to wear out faster than if you accelerate gradually and coast to slow down.
Tips for Long-Lasting Tires
In addition to more sensible driving habits, there are several things Big Timber car owners should do to extend the life of their tires, including:
Regularly inspecting for proper air pressure.
Regularly inspecting tire tread depth to catch tire tread wear.
Having tires rotated according to the vehicle's scheduled maintenance plan.
Taking your vehicle in for regularly scheduled maintenance.
Take Care of Your Tires at Underriner Hyundai
For any lingering questions surrounding how many miles should tires last, Livingston drivers only have to turn to the experienced technicians at Underriner Hyundai for professional assistance and personalized advice. We can tell you how often you should rotate your tires, what is a tire rotation, what kind of tires you should be using, how to clean car seats and more. We even boast a stocked tire center to get what you need as fast as possible. Contact us today to find out more, or feel free to schedule service online!
More From Underriner Hyundai
If you want to spend more time on the Laurel roads and less time at the fuel pump, the 2021 Hyundai Sonata MPG is bound to impress. The base Sonata offers fuel economy figures of 28 city mpg/38 mpg highway*, and drivers can choose from three different engine options to get the precise performance that…

Whether you're searching for the perfect family-friendly SUV, or a sophisticated, adventure-ready vehicle, the new 2022 Hyundai Santa Fe is an excellent option. Not only does the Santa Fe provide exciting performance capabilities, but this SUV also features a luxurious interior filled with plenty of cargo room and upscale amenities. Read on to learn…

If you're looking for a new vehicle that is both fuel efficient and stylish, the new Hyundai Kona is a great choice! You'll look great cruising around Billings, as the Kona is sleek and has all the latest features. Yet, perhaps the most impressive feature of this vehicle is the Hyundai Kona MPG. The…