What Kind of Oil Does a Hyundai Elantra Take?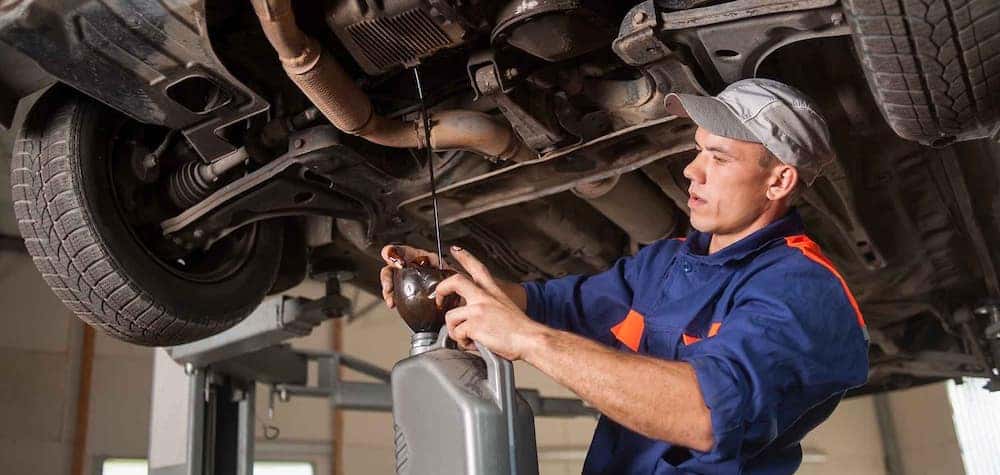 Oil changes are one of the most common routine services for your Hyundai, and they're one of the most important. Your Elantra needs the right amount of oil for its engine to run properly. It also needs the right type of oil. Find out what Hyundai Elantra oil you need for your sedan before your next DIY oil change.
Hyundai Elantra Recommended Oil
When it comes to your Hyundai Elantra oil type, there are two options: conventional and synthetic. Conventional oil is unrefined crude oil. It's more affordable than synthetic oil, but it requires you to get oil changes more frequently — every 3,000 miles.
Synthetic oil starts out the same as conventional, but it undergoes a refinement process to remove any impurities. It's then mixed with additives to help you adapt better to newer engine technologies. While synthetic oil is more costly, it's the better option if you want it to last longer. With this option, you only need to change your Hyundai Elantra oil every 7,500 to 10,000 miles because it breaks down at a slower rate.
Modern vehicles like the Elantra benefit more from the use of synthetic oil for oil changes.
The Underriner Hyundai Service Center is Here for Your Oil Change Needs
Now that you know what kind of oil you should use in your Hyundai Elantra, you can do your oil changes at home. If you'd prefer to leave it to the professionals, schedule an appointment with our service center in Billings. Our certified technicians will keep your Elantra running smoothly get getting it's best fuel economy for years to come. And, you can even learn more about the Hyundai towing capacity, warranty transfers, and roadside assistance. Contact us with your service-related questions, including about tire rotations!